The number of confirmed COVID-19 cases in Europe rose last week ending a six-week decline, the World Health Organization (WHO) warned on Thursday.
More than one million new cases of the deadly virus were recorded last week across the 51 countries of WHO's European region.
This represented a nine per cent rise on the previous week and "brought a promising six-week decline in new cases to an end," Dr Hans Kluge, WHO Europe's director, told reporters on Thursday.
The resurgence is particularly acute in central and eastern Europe, although several Western countries in which rates were already high, also registered a rise.
"Continued strain on our hospitals and health workers is being met with acts of medical solidarity between European neighbours. Nonetheless, over a year into the pandemic our health systems should not be in this situation," Dr Kluge said.
---
Slovakia's frontline staff under strain as country records world's highest COVID-related death rate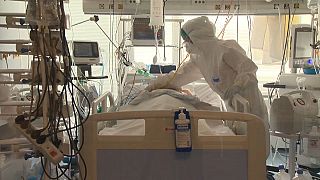 ICU unit in Galanta hospital in Slovakia   –   Copyright  Euronews
Slovakia is grappling with surging COVID cases, leaving doctors and nurses battling for the lives of those infected with the virus.
This week the nation recorded the highest rate of COVID-19-related deaths per million citizens in the world.
Galanta hospital, a city in the western part of the country, became a specialist COIVD hospital in January for patients within a 100 km radius.
Alexandra Pavlovičová, director of the hospital says almost all of the wards are assigned to treat people with the virus.
"We have approximately 650 workers, 100 of them are currently on sick leave because of COVID and 70% of them are dealing with COVID-patients," he explained.
Patients in a severe condition are admitted to the hospital's ICU unit, a new branch built with EU funds. Staff have to wear special protective clothing, with nurses and doctors in the attire for 12 to 24 hours at a time.
The head of the ICU unit Dagmar Bodáková says every day is very difficult: "We do it until we have to. We hold on."
When her workload permits it, she plays the piano in the hospital for her colleagues.
Chief nurse Zuzana Obermanová says the doctors and nurses try to support each other. "We stick together and keep the faith in each other. If somebody is in a bad mood, we sit down to talk with him or her. We work as a team in this difficult situation"